Volpak participate in the Upakovka Moscow 2022
Volpak will be present with its Flat Sachets Solutions Range in the Upakovka 2022 trade show in Moscow, taking place from January 25 to 28, 2022.
Upakovka Moscow 2022 is the number 1 trade fair in Russia for packaging and processing solutions, organized by Interpack Alliance at the AO Expocentre Krasnaya Presnya exhibition center in Moscow.
For its 29th edition, Upakovka estimates to host around 220 exhibitors featuring the latest packaging technology and over 24,000 visitors from 17 countries.
Volpak will be present at Michael Korako's booth. Meet us at booth FOC30, and learn about the range of flat pouch solutions under the Enflex brand. You will also discover all the environmental benefits provided by Enflex solutions throughout the packaging life cycle.
Enflex Flat Sachets Solutions Range
Enflex's flat sachet solutions offer a wide range of equipment meeting the different market needs in terms of performance, versatility, maintenance, user-friendliness and environmental friendliness.
Enflex F-11
The highest-performing horizontal sachet pouching machine on the market, thanks to its design and functionality, this flat sachets machine can be used in simplex or duplex mode and produce up to 160 sachets per minute.
Enflex F-14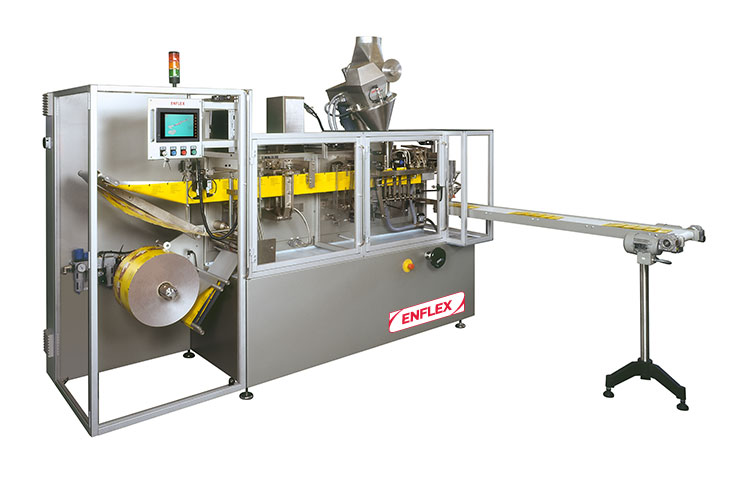 One of the most successful pouching machines in the Enflex range thanks to its versatility and high production rate.
Special attention has been given in its design to ease of use and low maintenance costs, incorporating independent pressure regulators and sealing clamps, lay-flat upper welds, etc.
Enflex F-17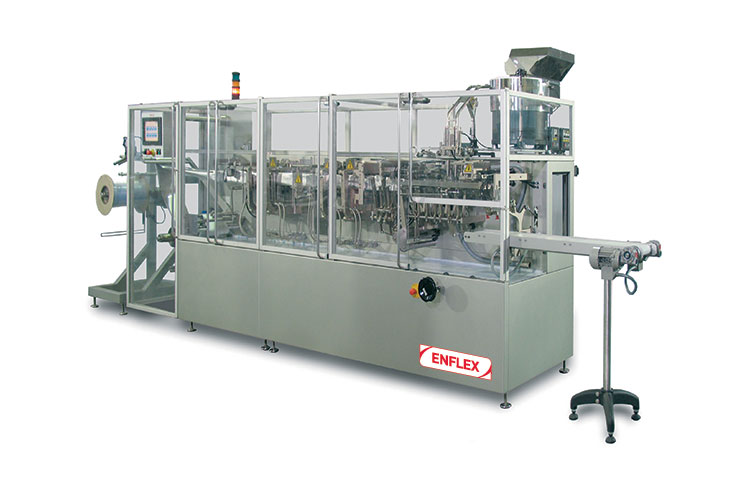 A very versatile machine for medium-sized formats, due to its ease of use and low maintenance, it is the ideal machine for contract packaging companies. A zipper applicator can be added as optional equipment.
Benefits of flexible packaging
Enflex flat sachets solution range is environmentally friendly providing benefits throughout the package's life cycle, from manufacturers, distributors, to consumers.
Flexible packaging produces less CO2 compared to most of the packages in the market and it significantly improves the product/packaging ratio, thus becoming the most sustainable packaging.
Attractive brand presentation: different forms & shapes. It can be tailored to fit your needs.
Long shelf life thanks to the preservation of flavour, texture minerals, and vitamins, through the use of barrier materials.
Easy to carry thanks to flexible and lightweight characteristics.
Less waste volume.
Recloseable and reusable. Features such as zip locks, spouts, and resealable seals make usage more convenient.
Convenient.
Who is Enflex, a Volpak brand
Enflex is a pioneer in the design and construction of horizontal pouching machines for flat sachets and Stand Up pouches, with over 35 years of experience in the food, pharmaceutical, chemical, cosmetic and other industries.
Enflex offers a complete range of horizontal pouching machines for flat sachets with the most advanced capabilities, recognized for their tremendous versatility, performance, and ease-of-use. This type of flexible packaging is gaining ever-greater market acceptance since it is functional, inexpensive, and environmentally-friendly.
All Enflex flat sachet machines can be used with different configurations, according to productivity required (simplex, duplex, double, double duplex), with production rates up to 400 sachets per minute. Enflex also offers a range of horizontal pouching machines adapted to the production and packing of sachets for towelettes of all types.
Enflex offers 3 years warranty + ARA Remote Assistance: We are so confident about the quality and durability of our F-Series machines that we have decided to offer you our warranty and ARA remote assistance service for 3 YEARS, free-of-charge. All this so we can support you even better during these tough times.
For further information on the Upakovka 2022 packaging exhibition visit its website.
Join us at Michael Kurako's booth number FOC30. We look forward to seeing you again!