Volpak signs a business partnership with Aranow & Cariba to offer complete packaging solutions.
By signing these agreements, the Enflex brand will be strengthened in the pharma & Healthcare sector, as well as Volpak's portfolio to offer complete packaging solutions.

Aranow: Reinforcing Enflex's offering in the Pharma & Healthcare industry
Aranow is part of AMG (Aranow Machinery Group), a holding company of Catalan companies comprising a family of innovative and dynamic brands dedicated to capital goods. Founded in 2003, Aranow is a leading company in designing and manufacturing single-dose multi-lane packaging machinery (stick-pack and flat sachet). Their expertise has led them to work for clients in the food, pharmaceutical, cosmetic, and chemical sectors, for both large multinationals and small or medium-sized companies around the world.
This business partnership is established with the goal of expanding Volpak's portfolio in flexible packaging and complementing each other's technological expertise. Aranow will make available part of its packaging technologies to integrate and complement Enflex's product portfolio, the brand under which Volpak commercializes equipment specifically designed for the pharmaceutical and healthcare sectors.
The companies aim to develop a comprehensive offer to meet the increasing demand for single-dose products, stick packs, and sachet formats in the Pharma industry.
Cariba:  a partnership to strengthen technological portfolios and offer complete packaging solutions.
For over 35 years Cariba has been among the most recognized suppliers for companies seeking automatic packaging machines with strong, precise customization and remarkable flexibility. In recent years, Cariba has developed a significant design capacity providing technologically advanced solutions in various packaging industries such as Pharmaceutical, Cosmetic, Food, Home Care and Hygiene, and Consumer Electronics. 
Cariba has always been and will continue to be the ideal partner for companies relying on high production flexibility at a low cost of depreciation, through a wide range of cartoners, lid-closing machines, forming machines, bundlers, case-packers, and palletizers, topped with complete and integrated packaging lines capability. Cariba offers a wide range of machinery that is constantly being updated with new and efficient models with countless customized solutions.
The highest-performing horizontal sachet pouching machine on the market, thanks to its design and functionality, this flat sachets machine can be used in simplex or duplex mode and produce up to 160 sachets per minute.
Volpak and Cariba's agreement it's been established with the goal of complementing Volpak's and Cariba's expertise in the handling of flexible packaging and end-of-line solutions, as well as expanding the portfolio of solutions offered. Cariba will make its portfolio of cartoning machines available for integration with the pouching machines developed by Volpak and Enflex.
This promising partnership will enable companies to offer a winning combination of quality and packaging efficiency to a wide range of consumer goods, as well as pharmaceutical and healthcare products.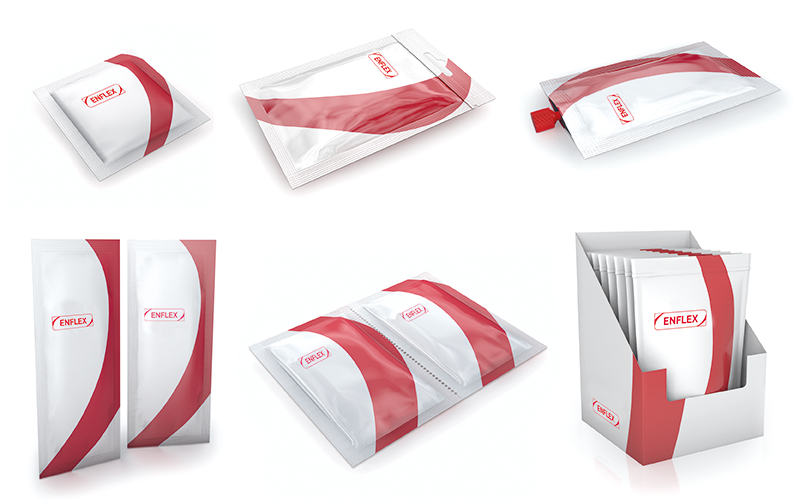 Who is Enflex, a Volpak brand, and part of Coesia Group.
Enflex is a pioneer in the design and construction of horizontal pouching machines for flat sachets and Stand Up pouches, with over 35 years of experience in the food, pharmaceutical, chemical, cosmetic and other industries. Enflex offers a complete range of horizontal pouching machines for flat sachets with the most advanced capabilities, recognized for their tremendous versatility, performance, and ease of use. This type of flexible packaging is gaining ever-greater market acceptance since it is functional, inexpensive, and environmentally friendly.
All Enflex flat sachet machines can be used with different configurations, according to productivity required (simplex, duplex, double, double duplex), with production rates up to 400 sachets per minute. Enflex also offers a range of horizontal pouching machines adapted to the production and packing of sachets for towelettes of all types.
Enflex offers 3 years warranty + ARA Remote Assistance: We are so confident about the quality and durability of our F-Series machines that we have decided to offer you our warranty and ARA remote assistance service for 3 YEARS, free of charge. All this so we can support you even better during these tough times.

Benefits of flexible packaging
Enflex flat sachets solution range is environmentally friendly providing benefits throughout the package's life cycle, from manufacturers, distributors, to consumers.
Flexible packaging produces less CO2 compared to most of the packages in the market and it significantly improves the product/packaging ratio, thus becoming the most sustainable packaging.
•    Attractive brand presentation: different forms & shapes. It can be tailored to fit your needs.
•    Long shelf life thanks to the preservation of flavor, texture minerals, and vitamins, through the use of barrier materials.
•    Easy to carry thanks to flexible and lightweight characteristics.
•    Less waste volume.
•    Recloseable and reusable. Features such as zip locks, spouts, and resealable seals make usage more convenient.
•    Convenient.