VOLPAK at Interpack: your pouching partner
VOLPAK, a Coesia Company and the leading brand in horizontal FFS pouching machines, presents its latest advancements in pouching technology with three machines at the show. VOLPAK machines are suitable for many different needs, from low to high volume production, up to high speed continuous production, being capable of packaging a wide range of products for the food, pharma, home care and personal care industries.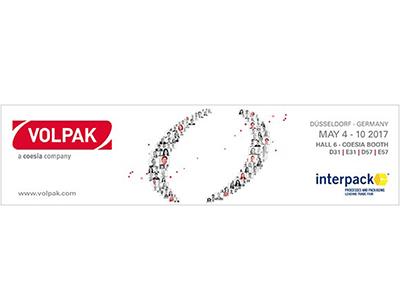 On show:
With the new SI-440, Volpak presents the new look and innovations of the SI family, one of the most flexible and versatile horizontal machines in the market today, perfectly adaptable for every need: from projects requiring the large production of small and medium-sized formats to batches requiring large sized pouches. The first pouching machine Industry 4.0 ready!
The F-14 Toweletes Duplex is a pouching machine dedicated to the tissue and personal care markets, where Enflex is an established leader. The F-14 T Duplex is one of the available models for toweletes with simultaneous production of two sachets per cycle.
StandCap Pouch - a win win solution for both producer and consumer
A specific focus will be dedicated to the newly launched StandCap pouch solution: one of the most attractive and convenient packaging style in the market. On one hand, the StandCap pouch allows great savings in packaging costs, since it's produced from a single reel of flexible packaging material, on the other hand offering at the same time an excellent product protection and a sustainability claim due to its low material weight, while bringing convenience to the customer.
Come visit us to discover in more detail the Volpak Pouching World!