VOLPAK, a Coesia company, has recently published its renewed website
VOLPAK, a Coesia company, has recently published its renewed website, designed for easy and accessible navigation for the customers as well as other users. The new website has been studied and structured according to Web 2.0. and provides a very clear and complete information respective Volpak's fields of competence and packaging solutions offered.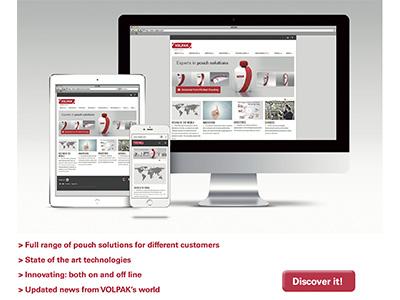 Full range of pouch solutions for different customers
One key part of the new website is the "Industry" section: here you can get an understanding of the wide range of sectors covered by its technologies. VOLPAK designs and manufactures automatic flexible packaging machines for consumer goods manufacturers. From the Beverage, Food, Pet Food, Home Care to Personal Care sectors, VOLPAK's solutions are suitable to cover all the different flexible packaging needs, the right solution for each specific product and customer requirement.
State of the art technologies
This is possible thanks to the company's many years experience and acquired know-how, which is summarized under the "Technologies" section. Here you can find information about the different solutions provided by VOLPAK: from the horizontal form-fill-seal pouching machines to machines for the secondary packaging of pouches. Another of Volpak's feature is, in fact, the ability to provide complete lines, for pouch to case, ready for shipping or display with a wide range of pouches, shapes and formats.
Innovating: both on and off line
VOLPAK is well known as an innovation-focused company, with a proven track record in managing complex projects. The Innovation section explains the role VOLPAK plays not just as a supplier of technologies but as a true partner in studying new solutions by working hand-in-hand with customers and partners in the packaging industry. As a result, new packaging, new machines, new dosing systems and new applications are all developed to provide value to our customers.
Updated news from VOLPAK's world
The new website is part of a multi-point communication strategy, which also includes frequent posts on Linkedin, VOLPAK's main social media platform, as well as the publication of the company's news under the dedicated section of the website. Under the same section you will also find a collection of the articles dedicated to VOLPAK, published on the most representative media publications worldwide, as well as an updated calendar showing all the upcoming and scheduled exhibitions.
VOLPAK: Facts and figures
VOLPAK is a company built on sturdy technological foundations, specializing in form-fill-seal solutions for the pouch-type flexible packaging. Founded in 1979, Volpak was acquired by the Coesia group in 1996, subsequently benefiting from its expertise and the solidity of what is now one of the biggest and most important packaging groups in the world. In 2001 VOLPAK acquired ENFLEX, a company specializing in the design and sale of medium-speed horizontal flexible packaging machines, further expanding its portfolio of solutions. Today, VOLPAK and its ENFLEX brand offer the market a wide range of automatic machines operating at low, medium or high speed, able to form, fill and seal pouches of a wide range of types and sizes. The company can count on the expertise of its 220 staff, based mainly in the Barcelona headquarters, a plant of 12,000 square metres where products are designed, manufactured and marketed. The company also has a second production site in Pune, India, and a sales network covering the globe, present in over 34 countries.