Strategic and competitive advantages
Working with clients, for clients
Technical staff work in tandem with customers, from the preliminary design stage to machine run-off and the subsequent installation of equipment. Post-sales is considered particularly important and the company's engineers will travel to sites anywhere in the world for maintenance and optimization of production lines.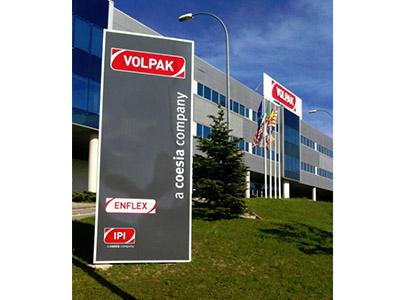 There is also the ARA – Advanced Remote Assistance system, fitted to all the latest generation machines manufactured in Barcelona, with qualified personnel providing "virtual" support 24/7. The strength of VOLPAK lies not just in technology but also in the team of people working within the organization. Today the company can count on the expertise of 220 staff, based mainly in the Barcelona headquarters, a plant of 12,000 square meters where products are designed, manufactured and marketed. The company also has a second production site in Pune, India, and a sales network covering the globe, present in over 34 countries. The close rapport with the specialized CEC – Coesia Engineering Center – makes it possible to share innovative packaging and industrial solutions developed by the group and its 15 companies, expanding the technological know-how available to customers who seek optimal solutions from VOLAPK/ENFLEX for retaining leadership in reference industries.