Retrofits and updates in flexible packaging: efficiency, profitability and sustainability
As technological changes and new market requirements emerge, companies fear whether they will be able to keep up with the latest trends. But as technologies evolve, many electronic elements risk becoming obsolete with time, while required parts often stop being manufactured when a system is out of date.
The number one solution to concerns about outdated parts or machinery is retrofitting. The term refers to the refurbishment of an older system with a newer software. All in all, retrofitting is one of the most efficient and advantageous ways for a machine-operated business to upgrade operations.
But possibly one of the most universal benefits of upgrading machinery, compared to purchasing a new one, is the significantly reduced environmental impact. By extending the lifespan of a single pouching machine to optimize its performance, retrofitting solutions champion the values of a truly sustainable and circular economy.
THE KEY BENEFITS OF RETROFITS IN FLEXIBLE POUCHING
For flexible packaging manufacturers, retrofitting offers countless benefits that go beyond just the improved performance of the machine. Since keeping equipment up-to-date is also the surest way to prevent operational issues, the greatest advantages of retrofitting are financial, relating to reduced maintenance and energy costs in the long-term. At the same time, the lifespan of older ma-chines can be multiplied by two or even three times.

One of Volpak's most important goals is to help Volpak's customers get the most out of their equipment for as long as possible. We do this by keeping our solutions for flexible pouches cost-effective and ensuring state-of-the-art results, while offering a portfolio of retrofitting kits to sup-port customers working with machines from older generations. Our dedication to innovation is what has propelled us to introduce retrofitting, which can solve some of our customers' most pressing concerns, including continuous upgrade of parts that become obsolete, as well as improved functionality of machinery that has been used for a long time.
In response to the increasing need for sustainable solutions around the world, Volpak has developed specific kits to retrofit existing machines so that customers can attain their goal of sustainability by offering their products in recyclable packaging. The experience, the laboratory, the cooperation with manufacturers of materials has allowed Volpak to develop retrofits towards this aim. By combining machine and material knowledge, and experience, Volpak is able to offer a unique Upgrade & Retrofit service to all customers, getting one step closer to lowering environmental impact while boosting operational efficiency at the same time.
HOW VOLPAK'S RETROFIT & UPGRADE SERVICE WORKS
Volpak's Upgrade & Retrofit service helps our customers to update their machines according their specific needs. Our advanced portfolio kits and upgrades are available in each of the Volpak models, ensuring all of our customers are continuously up to date.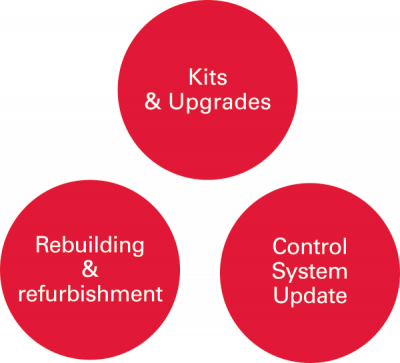 The upgrades are installed by Volpak's dedicated team of technicians directly into our customers' existing machines. One of the aims of a retrofit installation is to result in more rapid changeover and improved quality of the pouches. Keeping work safety as our prime concern, the retrofits are also designed to be user-friendly for easy maintenance and improved productivity. Combined, these elements ensure customers can keep older machinery running at peak performance, while maximizing equipment life at the lowest possible cost.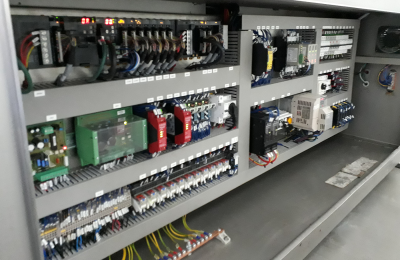 As we look towards the future of machinery and the evolution of operational systems, we are continuously developing solutions to add more versatility, efficiency and profitability to our customers' production process. Above all, our priority is to help clients stay present in the market with a more sustainable pouch and help create a positive impact for the economy, our people, our society and our planet.
Get in touch with us today to find out about how we can help you retrofit your Volpak machine.