Advanced technology for the flexible packaging industry
The pouch: an ideal solution for consumer goods
VOLPAK is a company built on sturdy technological foundations, specializing in form-fill-seal solutions for the pouch-type packaging industry. Pouches are one of the most popular types of packaging for consumer goods and come in two types: flat or stand-up.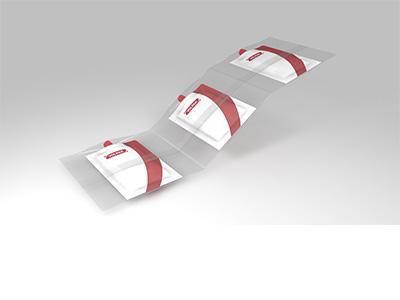 Both are extremely flexible and can be used to package solids and liquids, in different sizes and materials, with a guarantee of extended shelf life over time. Pouches are also a sustainable solution, offering tangible advantages in terms of line footprint, high productive efficiency (energy costs for packaging in pouches is one of the lowest in the market), reduced logistics costs, and for the end user easier disposal due to reduced volume. The shape of the packaging is also ideal for conveying promotional messages, to the benefit of marketing strategies for client companies, also offering various seal systems to meet the most diverse needs. Pouches are used in many industries, to package liquids like juices, milk and oils, but also solids such as snacks, chocolates or pet food. Geographically, the pouch is particularly popular across the entire American continent (in Latin and North America) and in Europe, but is rapidly expanding into countries such as China and India.